ASmart DI for Sound Cards, AV Post and Electronic Media
The Radial JPC is a two-channel hybrid direct boxdesigned to address the demand for interfacing computer sound cards, consumerelectronics and other gear to professional sound systems. The JPC features twoactive 48V phantom powered channels in a compact, rugged enclosure. The JPCcombines an active drive circuit, for long cable runs, with transformerisolated inputs to eliminate hum and buzz caused by ground loops.
Radial JPC at a Glance:
StereoDI for computer sound cards & A/V.

Transformerisolation eliminates ground loops.

Converts-10db to balanced XLR mic level.

Activedrive circuit for long cable runs.

Compactdesign - may be J-Rak mounted.

48Vphantom power eliminates batteries.

Ultrarugged 14-gauge steel construction.
StereoPC/AV DI
The Radial JPC is a stereo direct box that has been specifically designed foruse with computer sound cards and other consumer electronic products to allowthese to be connected to a professional sound system. It is unique in that itcombines the advantages of transformer-isolated inputs with an active drivecircuit, giving you the 'best of both worlds' in a compact and extremelyflexible package.
IsolationEliminates Ground Loops
Transformer coupled inputs have the unique advantage of isolating the 'source'from the 'destination'. This proven approach eliminates 60-cycle hum and buzzcaused by so-called ground loops when two pieces of electrically powereddevices are connected together. Because the active circuit does all of theimpedance conversion and balancing, a dedicated 1:1 transformer can be used.This results in a hybrid design that is at once great sounding, compact andmore affordable.
48VPhantom Power
As with all great designs, simplicity is a fundamental trait and the Radial JPCcertainly fits the bill. A choice of stereo 1/4", 1/8" and RCA inputAND thru-put connectors make interfacing a snap with all types of equipment. Asingle switch inserts a -10dB pad, two power LEDs confirm 48V phantom is turnedon, and a pair of XLR output connectors round out the feature set.
UltraRugged Construction
Of course like all Radial products, the JPC is built to handle any environment.The book-cover wrap-around sleeve design protects switches and connectors fromdamage while the 14 gauge steel I-beam construction eliminates stress thatcould torque the PC board and cause solder joint failure. A full-bottom no-slippad provides electrical insulation and mechanical isolation with plenty of'stay-put' for use on hectic stages. And with its baked enamel finish, theRadial JPC will continue looking great for years!
Radial JPC Features:
IsolatedXLR connectors to eliminate chassis ground potential.

Activebalanced circuit drives long cable runs without signal loss.

AudioTransformers on both inputs provide 100% isolation to eliminate hum and noisecausing ground loops.

14-Gaugesteel welded I-beam construction makes it impossible to torque the PC board.

Highgrade switches - long life, high cycle for reliable performance.

Militaryspec PC board with full surface ground plane to reduce RF noise susceptibility.

A-10dB pad reduces the level going into the JPC from loud sources that couldoverload the circuit and cause distortion.

48VPower on LEDs lets you know that phantom has been turned on and is powering thetwo channels.

1/4"TRS connector that will also work with 1/4" mono instrument signals!

1/8"TRS connector designed for PCs and laptops, makes connection easy with standard1/8" to 1/8" cable.

TwinRCA connectors are great for connecting DVD/CD players and video machines. RCAthru-puts for flexibility.

Book-enddesign creates a protective zone around the switches & connectors -Indestructable 14-gauge steel construction.

Twinbalanced XLR male output connectors; AES standard with Pin-1 ground and Pin-2hot.

Fullno-slip rubber bottom pad provides mechanical isolation, electrical insulationand 'stay-put-ability!'

Heavy-dutybaked enamel finish for excellent durability and great looks for years!

Sidemounted ground-lift disconnects the ground path to the transformer at the XLRoutput. This is used when a ground path is made at the input side such as witha computer or rack module.
Technical specification:
Type:Active DI
Channels:2
Pads:-15dB
Inputs:2 x 1/4", 1 x 1/8" stereo, 2 x RCA
Outputs:2 x XLR, 2 x RCA thru
Power Source:48V Phantom Power
Height:1.9"
Depth:5"
Width:3.3"
Weight:2.6 lbs.

The JPC offers a myriad of input connector options to simplify interfacing your computer, DVD/CD, MP3 player or other consumer audio device with the world of AES standard professional ballanced equipment. As with all Radial products, only the highest professional standards are used inside and out, in circuitry and construction.



JPC Applications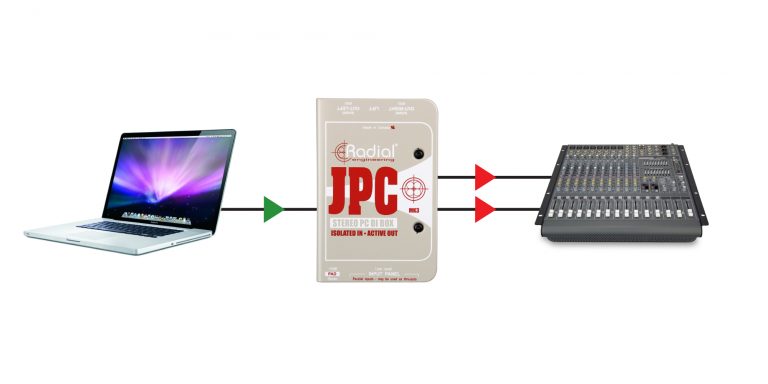 Using the JPC with a computer
Computers are often the cause of noise in the PA system. The JPC's combination of transformer isolation with an active drive circuit helps reduce noise by eliminating stray currents.
Using the JPC with a DJ setup
The JPC is well suited to handle the type of audio generated by CDs and digital audio files. By isolating the the source with the PA system you also eliminate noisy ground loops.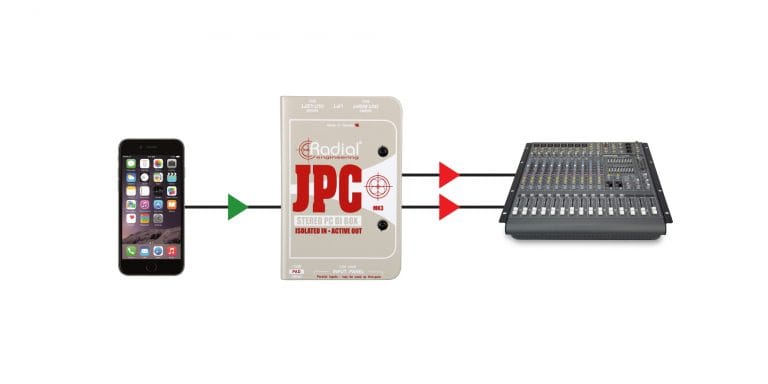 Using the JPC with an Phone
The JPC's 3.5mm (1/8") TRS jack makes it easy to interface portable playback devices. This makes it easy to bring unbalanced audio tracks into the PA system via the balanced mic input of a console.