The Radial JDI MK3 Passive Direct Box is a Jensentransformer equipped, high-quality passive direct box that has the advantage ofproviding complete isolation for reduced noise. The exceptionally low phasedistortion, almost perfect linear response, and low harmonic distortion makethe JDI direct box a superb choice for recording or live performance. Therugged construction allows it to be used in abusive environments withoutconcern. The Radial JDI MK3 is ideal for acoustic guitars, bass, and keyboards.

Considered by many to be one of the finest passive-operationdirect boxes available, this Radial DI employs a Jensen isolation transformerfor optimum audio performance. 60-cycle ground loop elimination and adepthandling of high-output, active instruments and keyboards make the Radial JDIdiscrete and versatile. Steel I-beam construction, baked enamel finish, andprotected faceplate mean Radial JDI is built to survive.

The Radial JDI passive direct box employs the Jensen JT-DBEtransformer as its main drive engine. The Jensen DBE transformer employs alaminated nickel core with low-permeability and no magnetic memory, thereforeeliminating phase distortion caused by the disruption of fundamentals andharmonics.

The distinctive book-end design protects the switches againstdamage from abuse by providing a protective zone on both I/O panels. A bakedenamel finish resists scratching while a no-slip rubberized pad on the bottomstops the JDI direct box from moving around and aids isolation. Inside, theRadial JDI features compound, welded I beam construction that protects thesensitive electronics from outside stress. The internal skeletal frame islocked together with 4 hex screws.

The input panel features a 1/4" instrument input andtraditional thru-put. An innovative merge function allows the thru-put to beconverted to a second input to allow stereo to mono summing. This is useful forinterface with stereo sources such as keyboards or CD players in live showswhere audio channels may be not always be plentiful. The Radial JDI also sportsa -15dB pad to interface with higher output levels.

The output panel features a balanced 600-ohm XLR connectorwith pin-2 hot following the AES specification. A polarity reverse switchtoggles pin-2 and pin-3 to allow the JDI direct bpx to interface with oldernon-AES equipment and for creative tinkering. The ground lift switchdisconnects the XLR pin-1 ground from the Radial JDI for 100% input-to-outputisolation. A second -30dB pad used in tandem with the -15dB input pad allowsthe JDI to be connected in parallel with a speaker. This, for instance, allows theengineer to tap the sound coming from a guitar amplifier speakerpost-distortion thus adding another creative dimension. This unique functionincorporates a speaker emulation filter circuit.

The JDI input features a high 10kOhm input impedance for minimalloading. This makes the Radial JDI ideal for interface with all instruments.The 600-ohm mic level output allows the JDI box to be used with typical snakesystems that incorporate bridging transformers (splitters) without fear ofoverloading them.

As a passive device, the JDI direct box is particularly idealfor use with high output devices such as active or self-powered instrumentssuch as acoustic guitars and basses with built-in battery-powered preamps, andAC-powered equipment such as drum machines, DJ mixers, and keyboards. Thesedevices tend to overload most active direct boxes making them sound thin andedgy. The Radial JDI direct box is capable of exceptionally high signalhandling without distortion.
Features:
100% passive design - no phantom power

Jensen transformer equipped

Dual function inputs w/2 channel merge

Polarity reverse switch

Speaker level input circuit

Ultra-durable welded steel chassis

Double sided printed circuit board

Protective channel for switches

Ground Lift and Pad switches

No-slip bottom pad
Specifications:
Dynamic range: 135dB

Signal to noise: 119dB

Maximum input level: +19dB

Frequency range: 10Hz40kHz

Linearity 2020kHz: 0.1dB

Phase coherence: 4 degreesat 20Hz

0 degrees at 1kHz

Distortion at 20Hz: 0.006%

CMR rejection 100dB @60Hz

Input impedance: 10kW

Output impedance: 600W

Construction: Welded steel

Finish: Baked enamel

Input connectors: Two1/4" phone

Output connectors: XLR male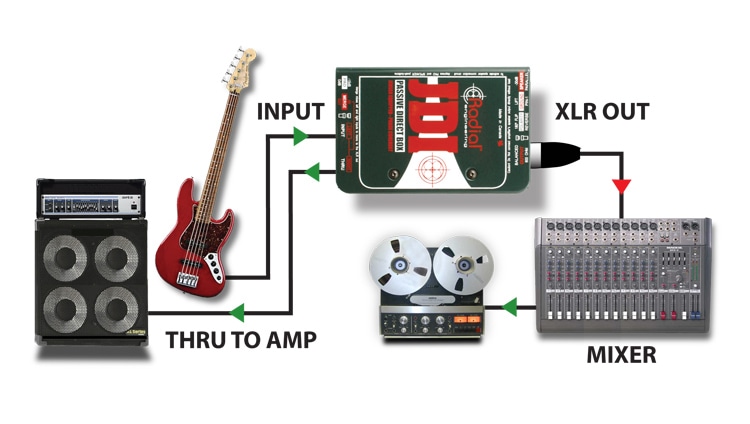 JDI with Electric Bass
The JDI is often selected for high output bass guitars. It is able to handle huge signal levels without distortion or artifact. On stage it sends the pure sound of the bass to the PA with minimal loading. In studio, it is perfect for recording direct.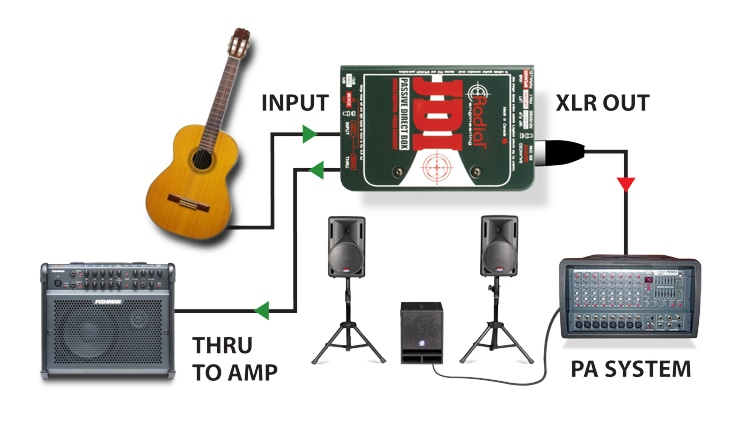 JDI with Acoustic Guitar
Most acoustic guitars have built-in preamps that can be peaky. The JDI naturally smoothes out the transients for a warmer tone. And because the JDI is able to handle huge transients, it will not distort. This makes the JDI a great direct box for acoustic guitars.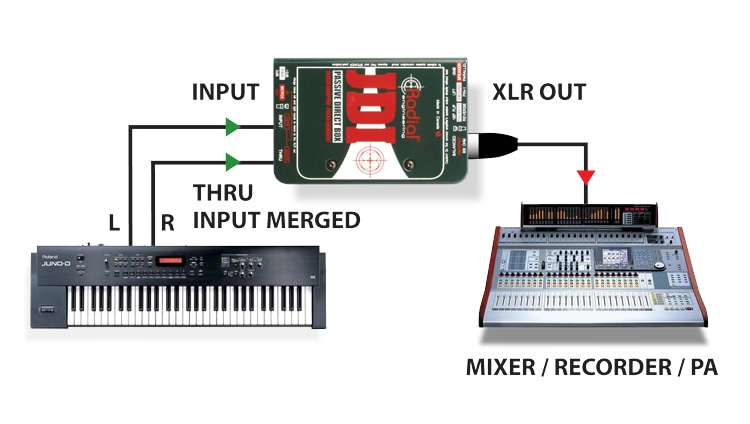 JDI with Keyboards
Today's digital keyboards are not only very dynamic, some like digital pianos have a tremendously wide frequency response. The Radial JDI is able to withstand excessive signal levels at all frequencies without introducing distortion or phase shift.