A Great-soundingActive Direct Box
Over the past quarter century, sound systems have evolved as havethe instruments that are now used. The listener has also evolved. CD qualitysound is no longer a luxury, but expected. Only now are we beginning to hear andappreciate the advantages of a good direct box. A good DI must provide a widedistortion-free frequency response and the dynamic range to handle today'spowerful instruments.
https://www.radialeng.com/comparing-direct-boxes

Radial J48 at a Glance:
Active 48-Volt phantompowered direct box.

Minimal power draw withhigh rail voltage.

Will not choke whendriven hard.

Low inter-modulationdistortion.

Innovative mergefunction.

80Hz highpass roll-offfilter reduces mud and increases headroom.
The Radial J48 is anactive direct box that has been specifically designed to work around thelimited current that is available with 48-Volt phantom power, and do so whiledelivering the pure and natural sound of the instrument. A unique switch-modesupply steps up the internal rails to allow an input signal of up to 10Vwithout any noticeable distortion.
Will Not Choke When Driven Hard
The single most importantdevelopment goal of the Radial J48 was increasing the headroom withoutcompromising sound quality. To this end, every possible effort was made todeploy the limited energy resources of phantom power to the audio signal path.To begin, phantom power is converted using a super-efficient digitalswitch-mode power supply that steps up the internal rail voltage to animpressive 10 volts. This allows one to hit the J48 with as much as 9-Voltswithout choking! To further increase available horsepower, all non-essentialdevices such a power-hungry LEDs are turned off when the J48 is in use. Atypical LED requires almost as much current as does the complete audio circuit!
Lower Harmonic Distortion
Open up the Radial J48and you will see huge, over-sized capacitors that provide ample current storageto assure clean, unobstructed power for the signal. With added headroom comesimproved performance in all areas: Less than half the phase distortion ofcompeting DIs, significantly lower harmonic distortion and single-digitinter-modulation distortion are all realized. Paying attention to these basicdetails has the net result of better sound.
Innovative Merge Function
But great sound is notthe only innovation: The Radial J48 introduces several new functions thatimprove functionality and open the doors for greater creativity. The inputpanel features the usual 1/4" instrument input and thru-put connections.An innovative Merge function converts the thru-put into a second input to sumstereo sources to mono such as stereo keyboards or CD players when mixer inputchannels may be of short supply. A -15dB pad may also be inserted whenconfronted with abnormally high signals.
Reduced Hum and Increased Headroom
To reduce low-end rumbleand run-away acoustic resonance, an 80Hz highpass roll-off filter is provided.As with any power system whether it is acoustic or electrical in nature, bassalways contains significantly more 'RMS power' than high frequencies. This iswhy low-frequency drivers require anywhere from 10 to 20 times more power in PAsystem designs than high-frequency tweeters. By gently removing unnecessarylows, the J48's dynamic handling is increased by a full 3dB or twice the powerhandling. This innovative feature both reduces mud and increases headroom atthe same time!
Like all Radial products,the J48 is built to handle the abuse on the road and features a unique weldedI-beam construction for years of trouble free performance.
Radial J48 Features:
Welded I-beamconstruction makes it impossible to torque the PC board. This virtuallyeliminates cold solder joints - the No.1 cause of system failure in the field.

An innovative'slide-in-place' XLR trace makes it possible to use I-Beam girder construction.

A digital switching powersupply steps-up the internal rail voltage to 9-Volts. The J48 will not chokelike other DI's when hit with large transients.

A military-grade PC boardis employed for maximum wear and tear in abusive environments. Welded steelstandoffs ensure the PC board will not shift.

A -15dB pad allows superhot inputs such as that from a CD player to be connected and balanced for longruns.

Momentary 48V Check LEDwill flash once when the 80Hz filter is depressed to tell you phantom power ispresent.

The Merge function turnsthe input & thru into 'left & right' inputs to mono mix at the XLRoutput. This handy function saves valuable inputs on the mixer!

The input is connected tothe instrument.

The thru-put is connectedto the instrument amplifier. The J48 has a high input impedance to reduceloading.

Our book-end designcreates a protective zone around the switches & connectors for bestprotection!

A heavy-duty baked enamelfinish for excellent durability and great looks for years! 100% 14-gauge steelconstruction.

The 600 Ohm balanced XLRout is mic level to properly match concert splitters - will drive 1000 feetwithout appreciable noise.

A polarity reverse switchflips the polarity from the AES standard Pin-2 to Pin-3 on the XLR and is usedwhen combining sounds that may be out of phase.

An 80Hz low-cut(highpass) filter gently reduces excessive bass for more headroom and clarity.Eliminates run-away resonant feedback from acoustics!

The ground-liftdisconnects the ground path to the transformer at the XLR output. This is usedwhen a ground path is made at the input side such as with a keyboard.

A no-slip full bottom padreduces mechanical vibration, improves electrical isolation and keeps the J48from moving around on busy stages!
Technical specification:
Outputs

:

1 x XLR, 1 x 1/4"thru
PowerSource

:

48V Phantom Power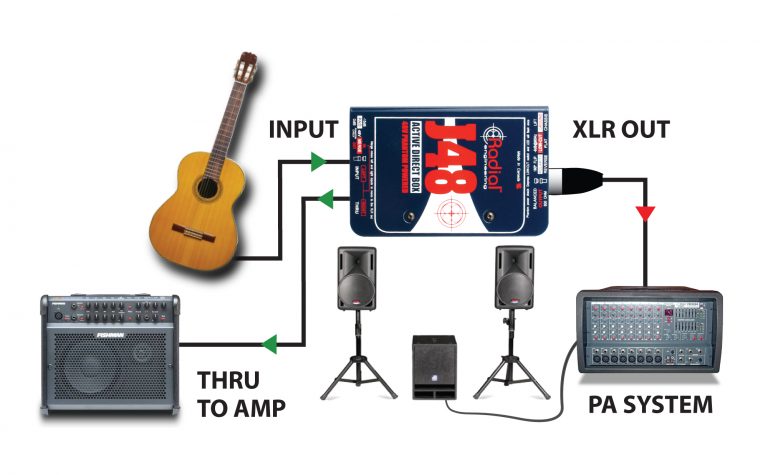 J48 for Live Touring
A direct box is primarily used to get an instrument signal from the stage to the mixing desk and PA system. The Radial J48 delivers the natural tone exceptionally long distances without adding distortion or coloring the sound in any way.
J48 in the Studio
When recording direct, the quality of the direct box interface assures the purest signal going to the track. The Radial J48 is particularly well suited for recording bass or capturing a direct track from a guitar.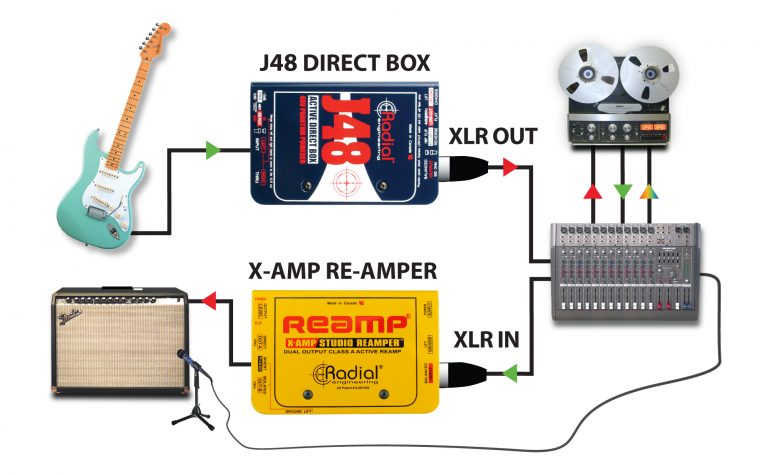 Reamping with the J48
Reamping means sending a dry track from the recorder back out to pedals and amps. This tricks has been used for years by top professionals. The Radial J48 is ideally suited to capture the sound of the instrument for later Reamping.